Nihizhí, Our Voices:
An Indigenous Solutions Podcast
Ep. 10 |The Island of Guåhan (Guam):
The Beauty & Struggle of Chamorro Liberation with Monaeka Flores
We speak with Monaeka Flores of the Chamorro Indigenous Community of Guåhan (colonially known as Guam). She works with Prutehi Litekyan: Save Ritidian and other groups working to protect water, land, sacred sites and advocate for the demilitarization of their precious island. In these transmissions, hope burgeons from shared song and protest, as affinity between Indigenous brothers and sisters is internationally contextualized to offer connection. Through our shared histories, what occupies and pollutes people, land, and waters is both acknowledged and named. Alongside this recurring narrative of both horror and caliber, we observe the beating of butterfly wings that inflect and ripple through our awareness as tranquil, powerful, and crowning as the Eight-Spot Butterfly, an endemic species found only in Guåhan. Monaeka shares with us whats working, what gives them hope, and how we can continue these challenging yet essential fights. Join us! Visit @PrutehiLitekyan on Instagram for more info.
Ep. 9| Opening Space for Creator: Karen Rodriguez's Decolonization Journey Home
Join us in this immersive and inspiring episode with Karen Rodriguez (Maya) as we recount her journey from the urban streets of Los Angeles as an immigrant to the sacred volcanoes and lakes of Guatemala, her homelands. In these tellings, Rodrigues un-cradles from economic capitalism to realize true power– that of community and living in the rhythm of the natural currents. In this episode, Rodriguez shares with us the walking, the crying– and above all the empowerment of returning to our homelands. Join us!
Ep. 8| Beata Tsosie-Peña: The Poetry of Land Liberation
Poet, Doula, Seed-keeper, and Land Defender Beata Tsosie-Peña of the Santa Clara Pueblo Indigenous Community, generously reads her poetry, venturing us into the midsts of her homelands, into grief, into seeds, and into the cosmos. Beata's poetry– beyond academia, beyond publishing, beyond capitalism– is a reclamation of healing and truth-telling.
Ep. 7| Birthing Ancestral Paradigms through Indigenous Midwifery with Nicolle Gonzales
Nicolle Gonzales educates us on the topic of Indigenous midwifery within the context of Diné society. From cradle to womanhood, Indigenous doulas reclamation of these traditional roles supports cultural kinship ties that inform land-body justice practices— an act of sovereignty and paradigm shifting.
Ep. 6| Publishing Indigenous Authors: Jessa Calderon's New Book, 'SisterHood'
Jessa Calderon's first fiction publication celebrates Indigenous women in the heart of Tongva Territory, narrating their strength in the face of the settler colonial system of present-day Los Angeles. Join us as Calderon touches on the topic of  healing, and the process of bringing SisterHood  into publication. 
Purchasing Calderon's SisterHood: Amazon | JessaCalderon.com
Ep. 5| MMIW in Latin America with Lydia Huerta
Ep. 4| Hopi Dryland Farming with Ahkima Honyumptewa
How do you thrive with limited water? Hopi dryland farmers have been positioning their fields at the base of small watersheds to catch the nutrients and waters that run down after monsoon rains. Ahkima Honyumptewa has carried on this tradition and shares with us how this relates to farming in an era of climate instability. We also touch on the role of the human being in the universe as well as the importance of women in society! Enjoy!
Ep. 3| Indigenous Languages: Raising Fluent Speakers
How can we raise our children to be fluent speakers of our endangered languages? In this episode, we interview three people who have accomplished this task! Trisha Moquino, H@la Turning Heart, and Marcus Briggs-Cloud  present on how language fluency has been passed onto children through communal immersion rooted in Indigenous cosmologies
Ep. 2| Corrina Gould, and the Art of Indigenous Land Trusts
In this episode,  Corrina Gould, chair and spokesperson for the Confederated Villages of Lisjan, unpacks the reality of Indigenous Peoples in the San Francisco Bay Area. Gould also discusses the innovation and implementation of Indigenous land trusts as a means of returning and rematriating land. 
To learn more about the Sogorea Te' Land Trust visit sogoreate-landtrust.org. To learn how to set up a voluntary land tax for settlers to fund Indigenous projects and #landback, visit: https://sogoreate-landtrust.org/pay-the-shuumi-land-tax/
Ep. 1| 'A Gathering Basket' Multimedia Cookbook and the Promise of Rematriation
In this inaugural episode, we meet with  M. Karlos Baca, who shares the I-Collective's most recent multimedia publication,  A Gathering Basket; Hazel James shares teachings regarding Diné lifeways; Janene Yazzie braids these intersecting topics to discuss the importance and meaning of rematriation, and the fundamentals of Diné and Indigenous matriarchies.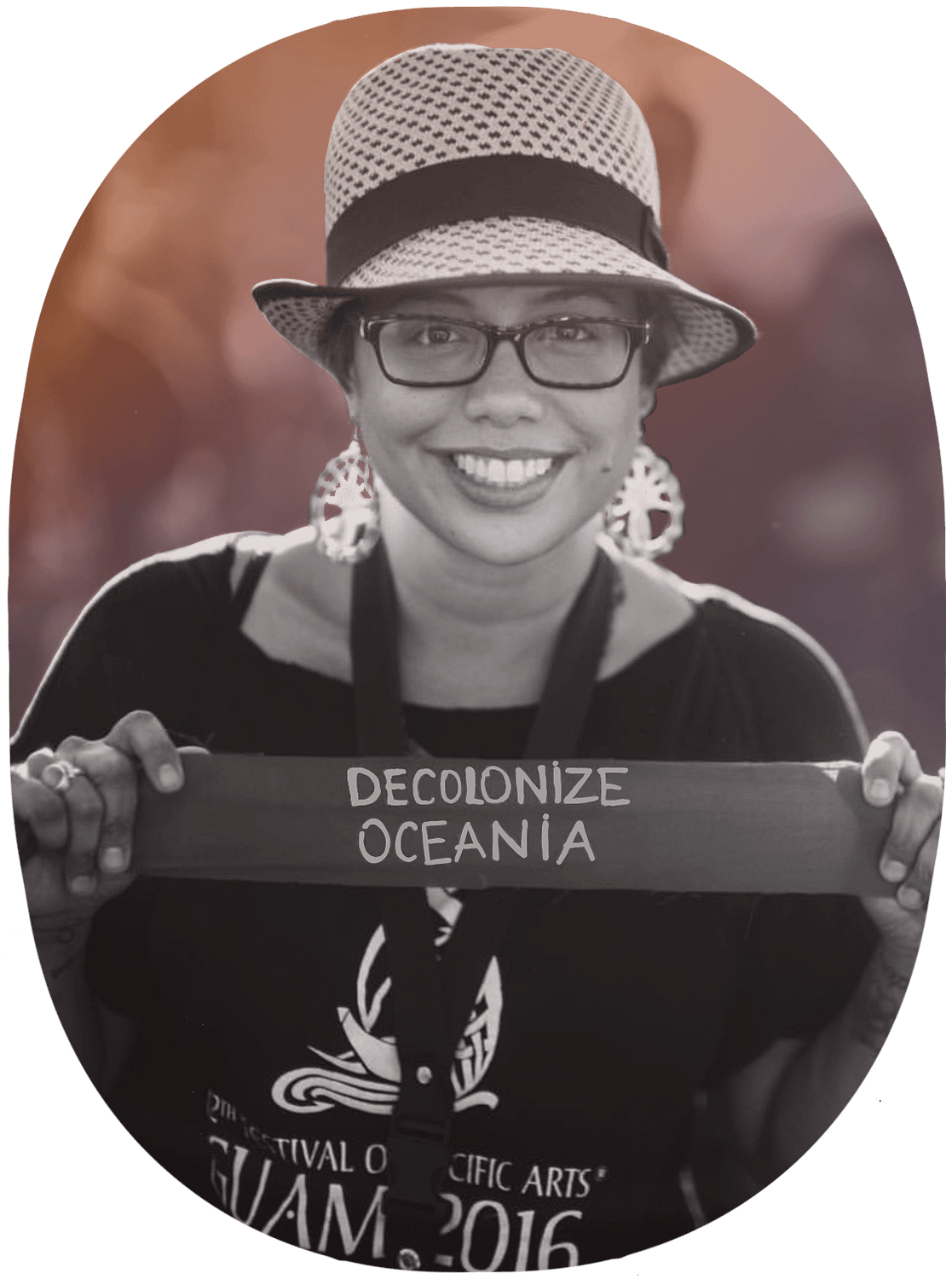 Monaeka Flores
Monaeka Flores (Familian Kabesa, she/they) also known as "Naek" is a queer CHamoru artist and organizer from Guåhan.  Naek is a core member of dynamic community organizations that focus on CHamoru self-determination, environmental justice, and the protection of sacred sites: Prutehi Litekyan – Save Ritidian and Independent Guåhan.
Prutehi Litekyan: Save Ritidian (PLSR) is a direct action group dedicated to the protection of natural and cultural resources in all sites identified for DOD live-fire training on Guam. PLSR opposes the establishment of any military firing range, in solidarity with community groups throughout the Marianas Islands and Pacific Region to prevent environmental degradation and destruction on sacred and native lands and promote the continued pursuit for return of ancestral lands.
Donate Link: PayPal by searching our email: litekyan.opa@gmail.com or by using this link.
Socials: IG | Linktree | Stop Ammunitions Testing, Change.org | PLSR, Change.org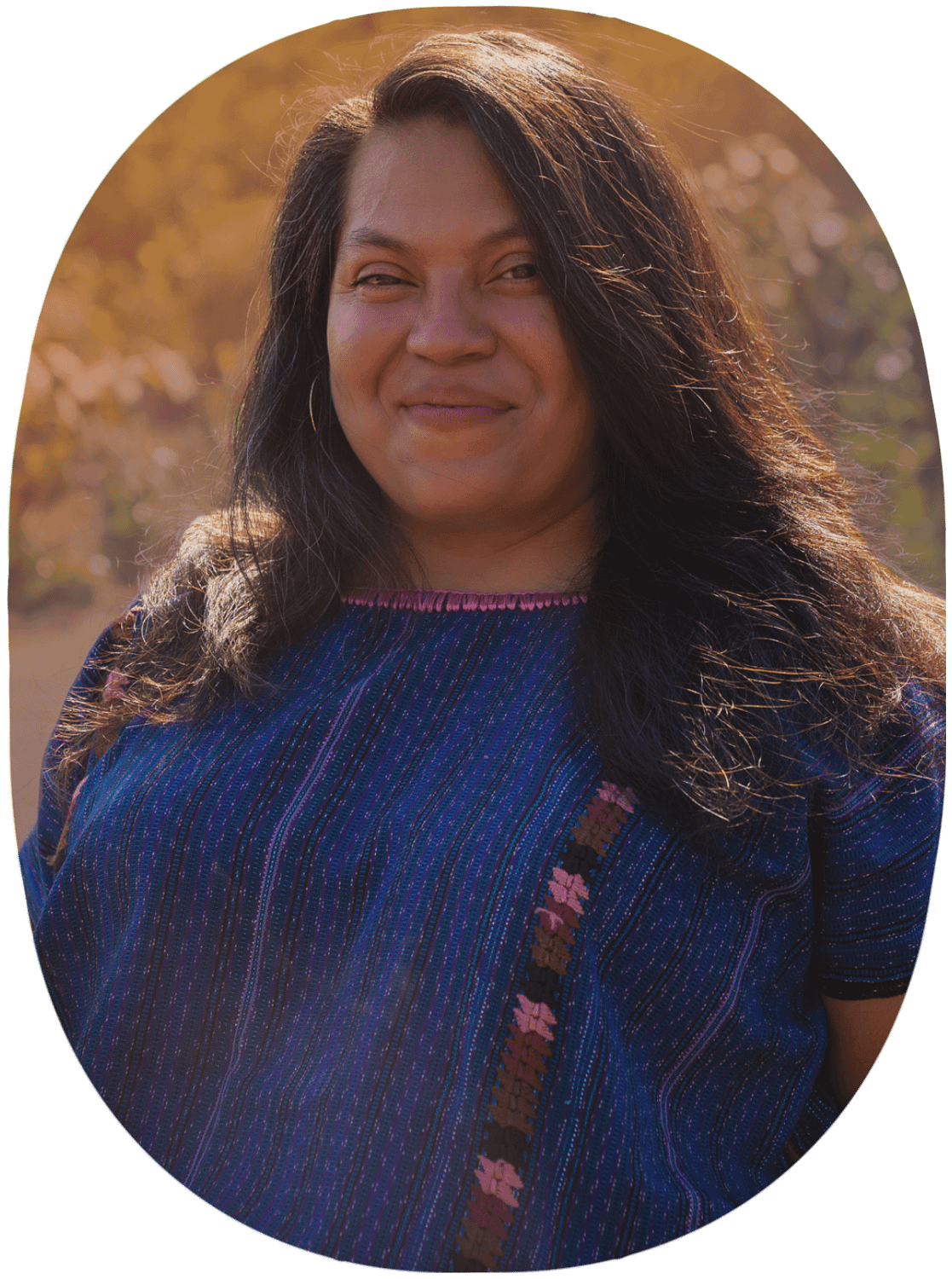 Karen Gonzales
Karen Rodriguez is a Guatemalan woman raised in Venice Beach. She is a food lover who got her food education in kitchens of great restaurants in Southern California and a few in NYC. In these roles, she opened teams, served, managed and occasionally cooked. Her love of the culinary arts led her on the journey to learn an incredible amount from chefs, farmers and all of the people connected to our food.
She loves to connect with nature through healing, herbs, and gardens and is always excited to share a meal and feed loved ones. Following the thread of where our food comes from has made her passionate about teaching both children and the adults who teach children about tending to our soil and our earth because that is where all food begins. She is excited about regeneration and supporting healthy humanity, through food education, regenerating soils, restoring systems and kissing the ground.
Beata Tsosie-Peña
Beata Tsosie-Peña, is from Santa Clara Pueblo and El Rito, NM. She is a mother, poet, advocate, seed keeper, and is certified in Infant Massage, as a Developmental Specialist, an Educator, A Lactation Counselor, a full-spectrum Birthworker, and in Indigenous Sustainable Design (permaculture). She led the creation of the Española Healing Foods Oasis demonstration garden and Seed Library with the local nonprofit, Tewa Women United. She is currently on the steering committee for the Traditional Native American Farmers Association and is a board member for Flowering Tree Permaculture Institute. She is a Pueblo representative for the New Mexico Governor's task force on Missing and Murdered Indigenous Women and Relatives serving a second term. She has been working to address impacts and advocate for environmental and reproductive health and justice for over a decade. She is the Organizational Director for Breath of My Heart Birthplace in traditional Kha'p'o Owingeh territory in Española NM.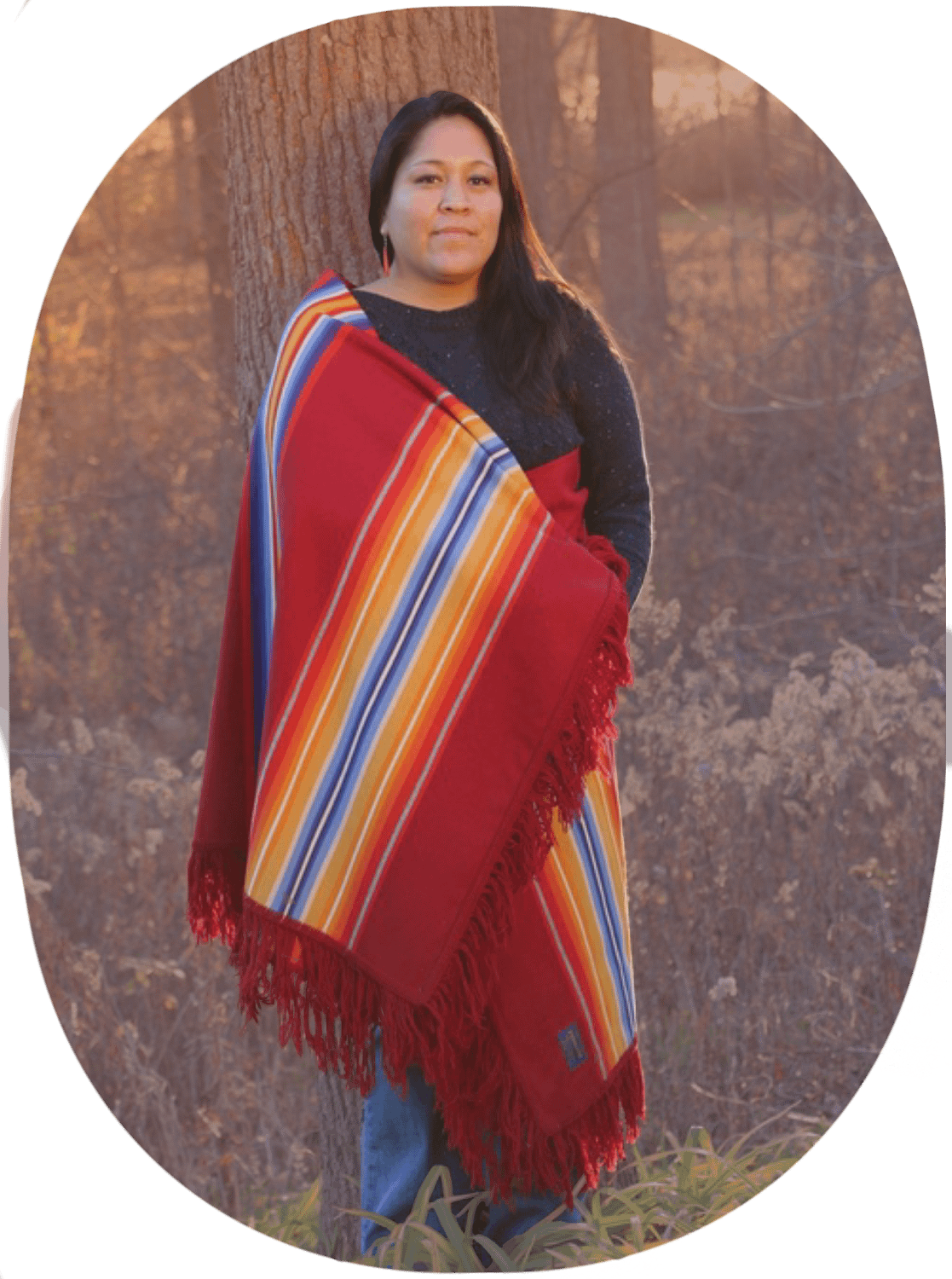 Nicolle Gonzales
I am Navajo and my clan is Tl'aashchi'I, Red Bottom clan, born for Tachii'nii, Red Running into the Water clan. Hashk'aa hadzohi, Yucca fruit-strung-out-in-a line clan, and Naasht'ezhi dine'e, Zuni clan. Growing up on and off the Navajo reservation near Farmington, New Mexico our traditional healing practices have always been apart of my life.  I attribute my accomplishments to the many prayers and ceremonies done on my behalf as I was growing into the woman I am today. 
I received my Bachelors degree in Nursing and a Masters degree in Nurse Midwifery from the University of New Mexico. I have had the pleasure of being involved in several community projects since the completion of my education as well as being invited to serve on several health panels emphasizing cultural diversity in midwifery.  In addition to my community service I have served as a mentor for emerging Native American midwifery students at the University of New Mexico and continue to support future midwives.
Jessa Calderon
Singer, Song Writer, Emcee (rapper), Poet, and Published Author Jessa Calderon is of the Chumash and Tongva Nations of Southern California. Jessa also identifies with her Yoeme and Mexican roots. Jessa is a natural born singer who truly found her voice in hip-hop. As an emcee, poet and published author, Jessa is able to share her culture and truth in a way that keeps the crowds intrigued. Not only does Jessa bring pictures to life through the minds' eye with her writing, she also brings her listeners enlightenment and healing. Since 2019 Jessa has joined the Dream Warriors collective with Tanaya Winder, Frank Waln, Lyla June, Tall Paul, Mic Jordan and Gunner Jules. Together they share, music, culture, stories, poems, seminars, workshops, webinars which equates to healing as a community.
Aside from writing and music, Jessa is also very passionate in Massage Therapy, Energy work, Past Life Regressions, Hypnotherapy and Intuitive practices.
Ahkima Honyumptewa
Hopi dryland famer, traditional weaver, and culture bearer of his people.
Corrina Gould
Corrina Gould (Lisjan Ohlone) is the chair and spokesperson for the Confederated Villages of Lisjan​— she was born and raised in Oakland, CA, the village of Huichin. As a tribal leader, she has continued to fight for the protection of the Shellmounds, uphold her nation's inherent right to sovereignty, and stand in solidarity with her Indigenous relatives to protect our sacred waters, mountains, and lands all over the world.
Her life's work has led to the creation of Sogorea Te' Land Trust, a women-led organization within the urban setting of her ancestral territory of the Bay Area. Sogorea Te' Land Trust works to return Indigenous land to Indigenous people. Based on an understanding that Oakland is home to many peoples that have been oppressed and marginalized, Sogorea Te works to create a thriving community that lives in relation to the land.
Trisha Moquino
Trisha Moquino is a member of the Cochiti, Kewa, and Ohkay Ohwingeh Pueblo Nations. She is a wife, mama, auntie, niece, daughter, community member and holds a BA from Stanford University in American Studies and an MA from the University of New Mexico in Bilingual and Elementary Education. She is the Co-Founder/Education Director and Elementary Keres Speaking Guide at Keres Children's Learning Center (KCLC), an Indigenous Language Immersion Montessori school, located in Cochiti Pueblo, NM. One of the blessings she is grateful for is being able to work with children from her tribe in their Indigenous language of Keres every day. Her Montessori Teaching credentials include: AMS (Elementary I) and UMA & AMI (Early Childhood). For the last 3.5 years, she has been working with her KCLC colleagues and partners to develop the Indigenous Montessori Institute- an anti-racist teacher training program (a program of KCLC).
Marcus Briggs-Cloud
Marcus Briggs-Cloud (Maskoke) is a language revitalizer, scholar, and musician. He is co-director of Ekvn-Yefolecv, an Indigenous ecovillage community comprised of Maskoke persons who have returned to their ancestral homelands for linguistic, cultural, and ecological sustainability. Marcus is a graduate of Harvard Divinity School and a doctoral candidate in ecology at the University of Florida. He is partnered to Tawna Little (Maskoke) and they have two children, Nokos-Afvnoke and Hemokke, with whom Marcus enjoys speaking exclusively in the Maskoke language.
h@lA Turning Heart
h@lA (Halay) Turning Heart is Project Administrator for the Yuchi Language Project. h@lA holds a Linguistics degree from Dartmouth College and attended the University of Auckland-New Zealand and Charles University in Prague. She has served her Yuchi people for over ten years as a language educator and established shtahaê Ô'wAdAnA Yuchi immersion school in 2018.  She has been learning to speak Yuchi from her elders since childhood and is now raising her three young children solely in the Yuchi language. She mentors other parents in decolonizing their home language and reclaiming Indigenous lifeways. h@lA is the 2021 NDN Changemaker Fellow representing the Great Plains region, USA. She is an enrolled member of the Seminole Nation of Oklahoma and a member of yUsûnûnû Yuchi Ceremonial Ground. can we raise our children to be fluent speakers of our endangered languages? In this episode, we interview three people who have accomplished this task! Trisha Moquino, H@la Turning Heart, and Marcus Briggs-Cloud  present on how language fluency has been passed onto children through communal immersion rooted in Indigenous cosmologies
About | Nihizhí, Our Voices:
An Indigenous Solutions Podcast
Nihizhí, Our Voices: An Indigenous Solutions Podcast is dedicated to providing listeners with recorded conversations on a variety of topics that center Indigenous voices across Turtle Island, with host Lyla June Johnston.
Rooted in an Indigenous framework, "nihizhí", meaning "our voices" in Diné bizaad, seeks to elevate and celebrate the voices of Indigenous peoples across Turtle Island. Including the teachings that elders practice and retain to maintain balance within local communities and ecologies. We also highlight various grassroots innovators and organizers who are overlooked and unacknowledged within a structure that privileges profitability and Eurocentricism. The Nihizhí podcast also seeks to educate the public on land-based solutions to help us remember how to be in positive relationship with life itself.
Lyla June Johnston
Podcast Host
Lyla June Johnston is a Diné/Tsétsêhéstâhese/European musician, scholar and community organizer from Taos, NM.
Lyncia Begay
Creative Director